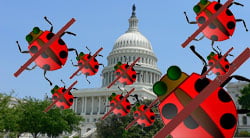 I'm breaking my promise that my next post would be about QR Code tracking and why they're so awesome for marketers, particularly marketers using print. Something appeared today I couldn't resist commenting immediately on.
Mozilla, the company who makes the Firefox browser issued a new PDF today, a guide and manual for people like me who do web publishing and advertising. This document is intended to provide direction for implementation of "Do Not Track" functionality within our ads and websites. "Do Not Track" is a movement initiated by pro-privacy advocates, now being considered for legislation in D.C..  The movement opposes ad targeting based on a visitor's previous web behavior. In other words, it's an effort to prevent advertisers from using every technological means necessary to make their ad targeting as effective as possible.
"Do Not Track", like any effort to restrict business and advocate individual rights, is a movement that started out with good intentions but has now taken on the tone of being championed by a bunch of Ellsworth Tooheys.
Don't get me wrong, I congratulate Mozilla for their attention to the issue, both in terms of technology and a relatively accurate exposition of the issue. The one thing that popped out in that report was this  line on page 2.
Mechanisms for Internet privacy are usually grounded in a theory of notice and choice. As one example, websites offer notice of their data practices through privacy policies, and users choose to visit a site or not. In practice, privacy policies have been unsuccessful in providing clear, usable notice. Unsurprisingly, few users actually read them. This creates information asymmetries where the companies offering goods or services know substantially more than the buyer. Economists identify information asymmetries as a market condition in which there is a high likelihood that is better for government to intervene, rather than to rely on a free market solution.
Despite the wealth of references included through the document, this particular highlighted quote seems, at least to me, more like an editorial opinion intended to address economic injustice more than the issue of privacy. I takes on too much of an anti-business tone. Isn't the object of the document to provide a guideline for industry that should suffice on it's own without new laws; don't we need a solution that implicitly involves technology and self-modification rather than a solution that relies on increasing government regulation?
Do you believe approach taken by the "Do Not Track Guide"  is a good or bad approach for individuals and/or for the advertising industry?
Here's a link to download the field guide:
http://people.mozilla.org/~tlowenthal/resources/mozilla_dnt-field-guide.pdf