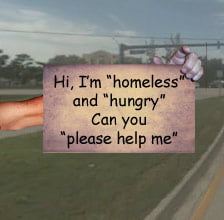 Upon exiting the highway, a local panhandler had effectively drawn my attention. It ended up with me shelling out what small change I had within arm's reach in the car, about a buck or so. His sign was what really caught my eye.
I've been on the lookout for inappropriate use of quotes, inspired by unnecessaryquotes.com. This particular example of unnecessary quote usage, the panhandler's sign, although nothing to laugh at, is one worth noting for it's effectiveness. His BAD grammar made me stop and speak with him. Had his sign been correctly written I wouldn't have felt compelled to help him.
His sign read:
Hi, I'm "homeless" and "hungry". Can you "please help me"?
With the quotes it literally meant that he had a nice house, had just had something to eat, and that giving him what he's asking for won't actually help him.
I don't know if he understood my intentions in trying to correct his sign, but he gladly took the coins I was offering him. The sign didn't look like it was going to last too many more days.
As I was driving away I realized that had responded to this call to action. He captured my attention and finally converted me. I felt taken back first; did he put those quotes in there knowing they were wrong? Was he copying some other panhandler's technique?
When things seem correct and in place, people don't notice them. When something works out differently that you'd expect – then it's an attention getter. It might not make you look professional or instill confidence, but when those things aren't important then you might want to experiment.  I'd love to know if other marketers have had success with this "skewed expectations" tactic. Please share by commenting below.