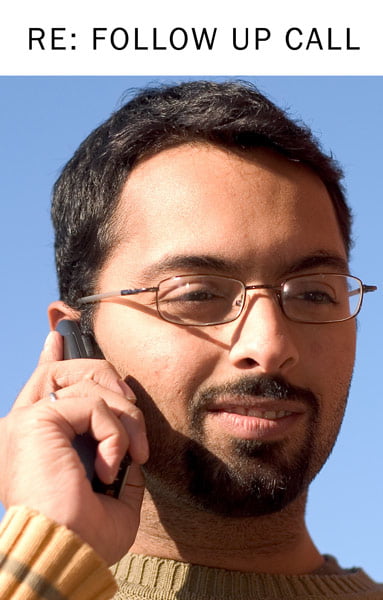 Have you been getting emails from strangers mentioning a "follow up" lately? I have. I get a few each day, people using this kind of subject line in unsolicited emails. They're trying to get your attention and unfortunately it works. I fall for it still. I wouldn't ever patronize a service that takes this approach, and hopefully others will do the same. The more people are aware of how rude this tactic is, the less effective it will be towards driving conversions.
A new low in getting your attention.
People who send unsolicited emails, spammers, aren't really good at creating positive reputations with their audiences. Most people hate getting spam. It takes away a person's attention, precious moments of life getting jerked around by someone else's pitch, someone else's unwelcome sales agenda. Spammers know that people tune out their messages automatically, through spam filters and anti-spam apps. Audiences also tune out certain types of messages through habituation; if it sounds like a sales pitch people learn to ignore it. If a spam email does get through to someone's email box, its Subject Line has to be crafted skillfully, avoiding a savvy audience's ability to recognize it as spam. Its goal is to be compelling enough to cause the recipient to open it.
Spammers could hypothetically put something horrible and triggering as the Subject of the email, guaranteed to make people open it up. The problem with doing that, if the sales pitch in the body of the email doesn't match, is that audiences immediately recognize they're being manipulated. More subtle means of manipulating people are required.
Re: manipulating your sense of propriety
One "subtle" means of getting people's attention is this new tactic that's been growing in popularity more than ever: pretending the recipient and the sender had some previous communication, the "Re: follow up". This is the worst. I still fall for it today, even though I know it's a spammer's manipulation tactic. It appeals to the recipient's social propriety, the compulsion to be polite and respond back to known senders promptly, fulfilling an obligation to be expedient and polite. Some refer to an email they sent earlier, as if you've received it and paid attention to it.
Then, once you click on the email to open it and read the body contents, it's instantly apparent you've never  heard of the sender before. None of the emails I've received like this have been effective at tricking me into believing the sender was someone I had paid attention to before.
My hope is that the general public becomes more and more aware of this tactic being favored by spammers, and that spammers find it therefore less effective to use. Please share this article to help educate people about this dastardly tactic. The more people are aware if it, the more it will waste spammers' time instead of theirs.